Pole Barn Packages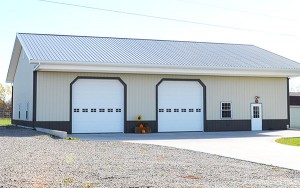 Schilling Truss has the perfect pole barn package for you.  We can design your pole barn according to the size you want.  For example, Schilling Truss can put two buildings together add a porch, etc.   We will be happy to work with you and provide free estimates.  For free quotes stop in our office and contact Tyler.  He will be glad to take the time to help you out.
We supply high-quality materials, not to mention a nice selection of custom features available to give your building the personal touch.  All packages include lumber, trusses, metal siding and all of the hardware.  We supply premium quality painted steel roofing, siding, trim in a number of colors, as well as color-matched fasteners and a wide selection of sliding or overhead doors, service doors and window options.  All custom tailored to your own particular needs.
Visit some of our vendors we use for our quality material:
www.centralstatesmfg.com:  For metal siding and roofing.
www.plyco.com: For cupolas, service doors, sliding door and Equus horse stalls.
www.doorlinkmfg.com: For overhead doors.